The Fillmore Cafe
August 2023 - Unity Village, MO
For the entire month of August 2023, Bryce had 27 paintings on display at The Fillmore Cafe. The opening event was a blast and 6 of the artworks sold.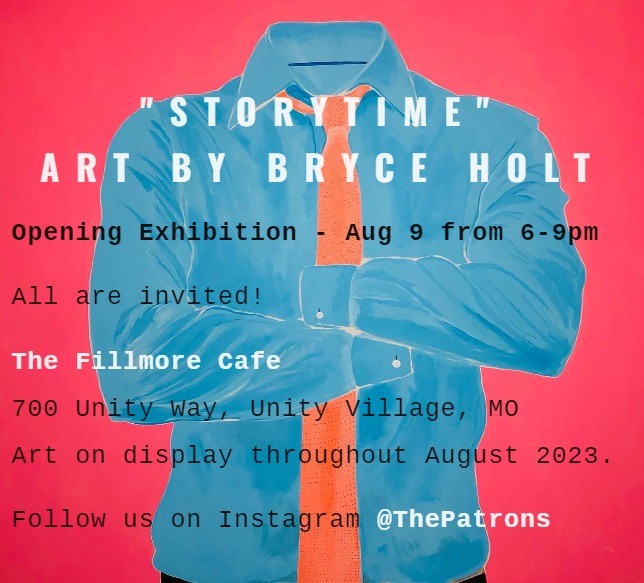 "Storytime"
Art by Bryce Holt at The Fillmore Cafe
Opening Exhibition on Aug 9 from 6-9pm - YOU ARE INVITED!
The Fillmore Cafe - 700 Unity Way, Unity Village, MO
For this solo show 26 of Bryce's paintings will be on display starting Aug 6th for the entire month of August. Come check it out!
Art at Sierra Grill
Jan - Jul 2023 - Lenexa, KS
As they opened their new restaurant location, Sierra Grill teamed up with The Patrons to have eight of Bryce's paintings hanging in their foyer and dining area.
Corporate Woods
Dec 2022 - Overland Park, KS
Working in cooperation with the Corporate Woods business park and CBRE, we held a private event pop-up art gallery in the lobby of one of the park's many commercial buildings for Corporate Woods' tenants.
Parlor
July 2022 - Kansas City, MO
The Patrons teamed up with the production team that created the international award winning short film "Let's Start Over" to host a night for the arts.
Several paintings by Bryce Holt and Madison Skriver were on display for a packed house. Combining this exhibition with the premiere screening for "Let's Start Over" made for an amazing night!
Eight-One-Five Gallery
June 2022 - Kansas City, MO
Bryce Holt had a solo show at Eight-One-Five Gallery and it was an absolute hit with over 200 in attendance.